If you're keeping up at all with Destination D23, you'll know that it was information overload. Here's all the exciting info straight from the D23 website. Since there was so much information, we're breaking it up into two separate days, here was Saturday.
SATURDAY
The biggest Disney fan event of the year is here, and we kicked it off in the most magical way! This morning, the fun began with a special welcome moment, featuring Mickey and friends—plus performers from Magic Kingdom, EPCOT, Disney's Hollywood Studios, and Disney's Animal Kingdom all came together to honor the golden anniversary of Walt Disney World Resort. After that spectacular beginning, Head of D23 Michael Vargo welcomed D23 Members to this special event honoring Walt Disney World's 50th anniversary—and dazzling future.
From there, D23 Members enjoyed a day of exciting announcements, fascinating presentations, and a special surprise or two: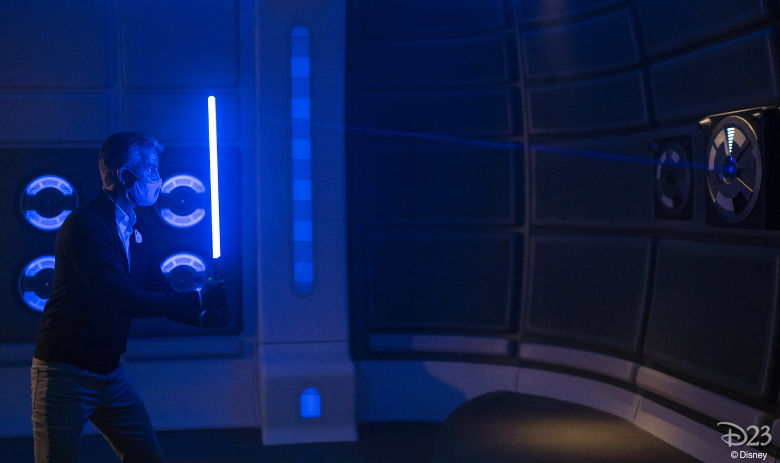 Connections: A Look at the Future of Disney Parks, Experiences and Products
We know you've been waiting for this moment! DPEP Chairman Josh D'Amaro shared a first look at some of the newest projects around the world, including Zootopia-themed land coming to Shanghai Disneyland, new musicals coming to the Disney Wish, and lightsaber training at Star Wars: Galactic Starcruiser. That's not all—check out our full round up of everything that was announced this morning here… and mark your calendar for all the Disney Parks magic adding pixie dust to our futures.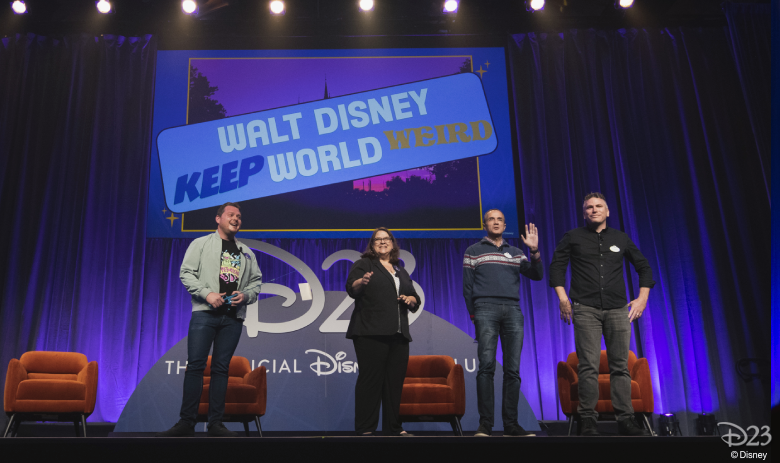 Weird Disney World
With all the thrilling announcements still buzzing in our heads, it was time to get weird! The fan-favorite "Weird Disney" presentation made its grand return, hosted by Director of the Walt Disney Archives Becky Cline and D23's own Justin Arthur. The panel took a closer look at the fun costumes, parades, entertainment, and more from Walt Disney World's past. (And so, so many kites!) Get a taste of some of the weird for yourself with a closer look at Goofy waterskiing (yes, you read that right) on Bay Lake!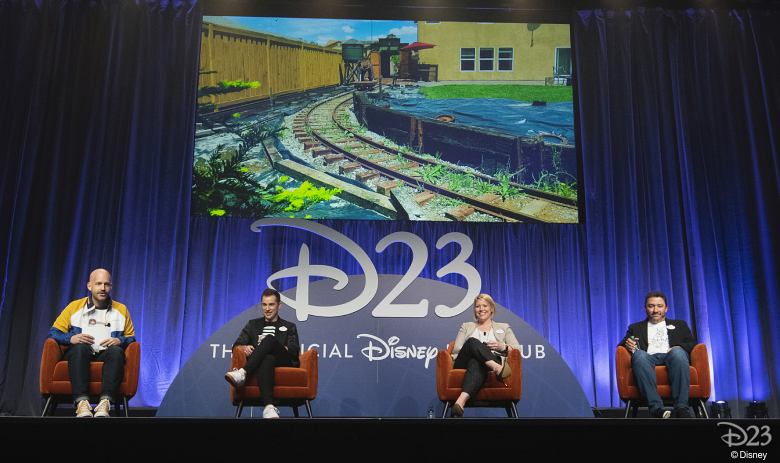 Planes, Trains, and Monorails: Walt Disney World on the Move Presented by Enterprise®
Host, voice of Mickey Mouse, and train enthusiast Bret Iwan joined an array of Imagineers to take us on a journey of Walt Disney World transportation, from Walt Disney's Airplane to the Disney Skyliner. Highlights from the panel included a look at how the Skyliner paths were developed and the news that Walter E. Disney Engine 1 of the Walt Disney World Railroad was recently fully refurbished.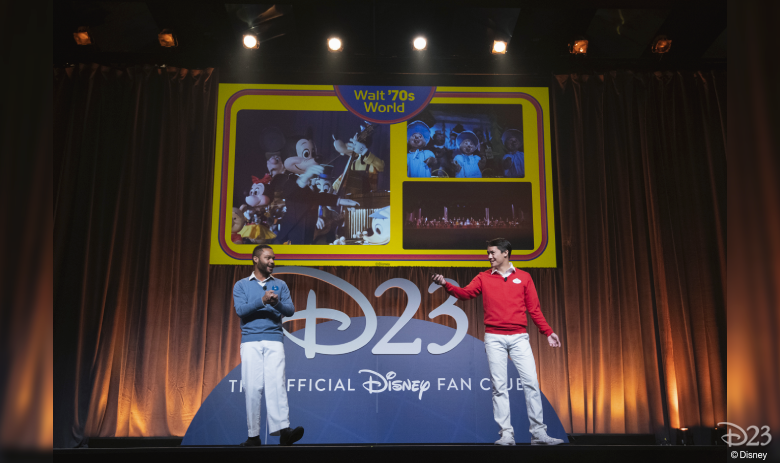 Walt '70s World
With five decades of Walt Disney World behind us, there's more history than can be contained in just one presentation! For our first pop culture-fueled ride through the Disney decades, we explored the resort's groovy early years in the '70s with former Walt Disney World Ambassadors Ken Facey and Stephen Lim. Guest enjoyed totally nostalgic footage from the resort's early years, including Disney Legend Julie Andrews performing at Magic Kingdom during a television special about the park, along with a classic commercial featuring Carousel of Progress.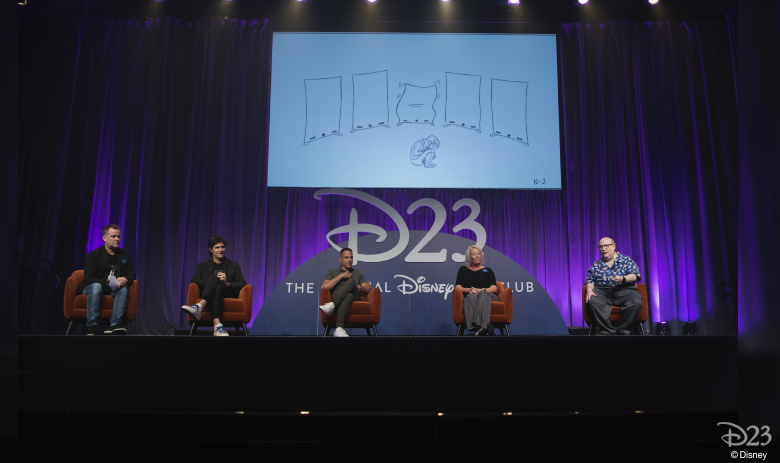 Drawn to Life: Inside Disney's First Collaboration with Cirque Du Soliel
The first ever Disney-inspired Cirque du Soleil show, Drawn to Life, just debuted this past Thursday! Destination D23 attendees got an inside look at how this spectacular, animation-inspired show (pardon the pun) came to life. Cirque du Soleil's Michel Laprise and Fabrice Becker sat down with Natalie Woodward of Disney Live Entertainment and legendary Disney Animator Eric Goldberg to look back over the years long process of creating Drawn to Life. Guests got a special look at an animation test for Baloo and Olaf, and also heard from the creative team about how the storyline of the show was developed.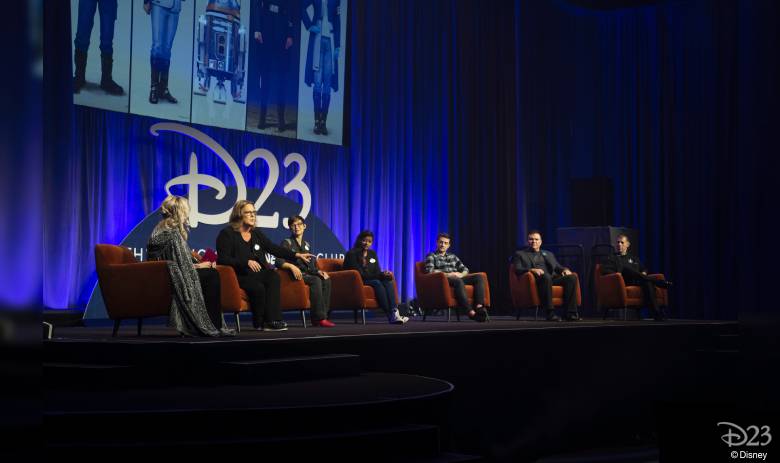 World Building for Star Wars: Galactic Starcruiser
Ever wanted to vacation in a galaxy far, far away? Star Wars: Galactic Starcruiser will be debuting at Walt Disney World Resort March 1, 2022, and Destination D23 guests got an exclusive look at how this all-new two-night immersive experience is coming to life—and how it connects to the broader Star Wars galaxy. Host Ashley Eckstein and an array of the creative minds behind the project shared details on some of the new characters you'll meet when you're aboard the Halcyon starcruiser—and how the decisions you make will affect how the story unfolds during your cruise. New apparel and jewelry were also revealed, including a replica Padmé Amidala cape that Eckstein modeled herself. We learned a galaxy's worth of details, but we couldn't help but want more—while Eckstein tried to use Jedi mind tricks on the panelists, we'll have to wait until Star Wars: Galactic Starcruiser opens next year at Walt Disney World!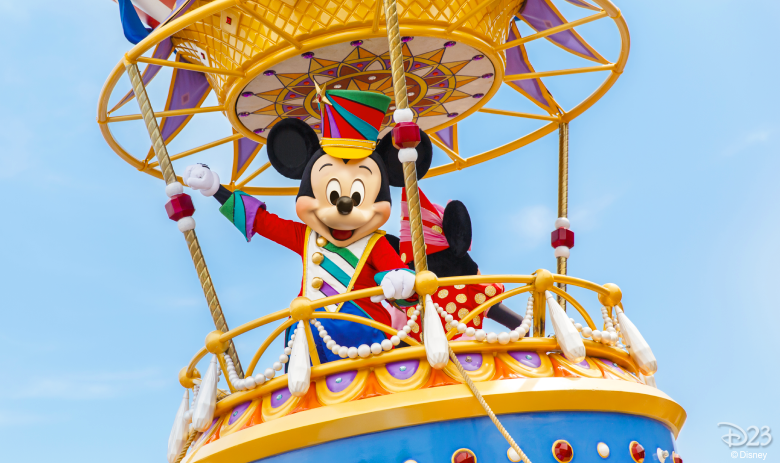 Magical Entertainment for the Walt Disney World 50th Anniversary Celebration
With "The World's Most Magical Celebration" kicking off last month, more surprises and delights unfold as the 50th Anniversary Celebration of Walt Disney World continues. Part of that celebration is live entertainment, dazzling guests with music, dancing, and characters we love. Disney Live Entertainment Creative Director Tom Vazzana shared a look at new experiences created for "The World's Most Magical Celebration," starting with a surprise performance from the Dapper Dans!
Vazzana shared details on Harmonius, Disney Kite Tails, Disney Enchantment, and Beacons of Magic—plus, the Walt Disney World Resort classic, The Electrical Water Pageant, which begins and ends with a special 50th anniversary sequence. If you're hoping for some epic entertainment news, Vazzana shared that the Indiana Jones Epic Stunt Spectacular will be returning this December to Disney's Hollywood Studios. That's not all! Jason Robinson took to the stage to share that Finding Nemo—The Musical is being reimagined as Finding Nemo: The Big, The Blue… and Beyond, which will debut at Animal Kingdom in in 2022. Over at Disney's Hollywood Studios, a new segment was teased for Fantasmic! that will feature characters that have never appeared in the show before. "This segment will bring hope and joy to your heart," Vazzana promised.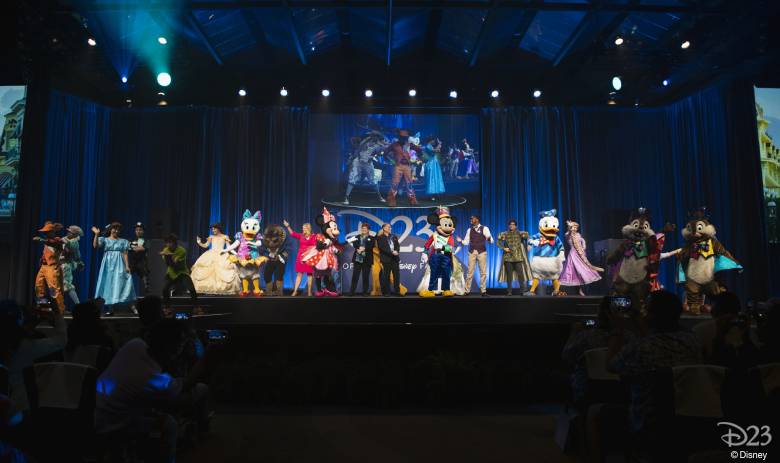 Don't worry, Magic Kingdom didn't get left out of this wave of exciting entertainment news—Vazzana revealed that the Disney Adventure Friends Cavalcade will debut in early 2022 and feature… well, just about everyone! Expect to see Nick Wilde, Judy Hopps, Baloo, King Louie, Miguel, Merida, Moana, Mulan, Stitch, Clarabelle… and so many more! Get more details on all these announcements over on the Disney Parks Blog, and mark your calendars for lots of entertaining moments in your future!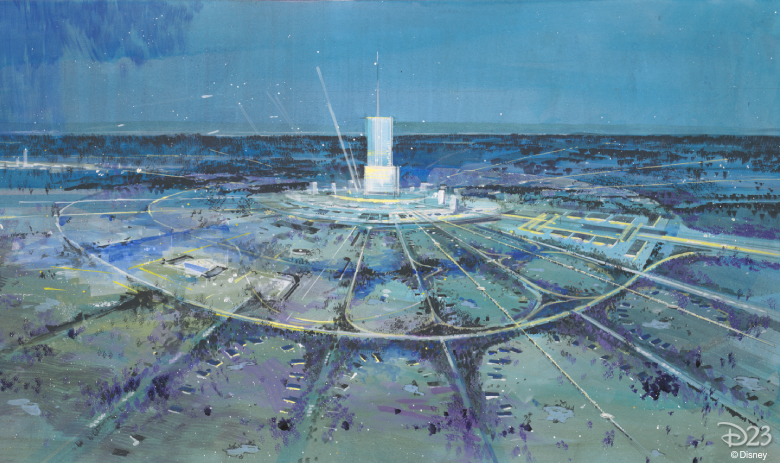 The Art and Imagery of Walt Disney World
Retired Imagineering executive Peggie Fariss, and Imagineers Gary Landrum, Mike Pucher, and Stacy Shoff shared stories of 50 years of the most gorgeous, stunning, and fascinating artwork and images behind The Most Magical Place on Earth, including concept art for Hall of Presidents, Disney Legend Mary Blair's iconic mural at the Contemporary Resort, and the Polynesian Village Resort.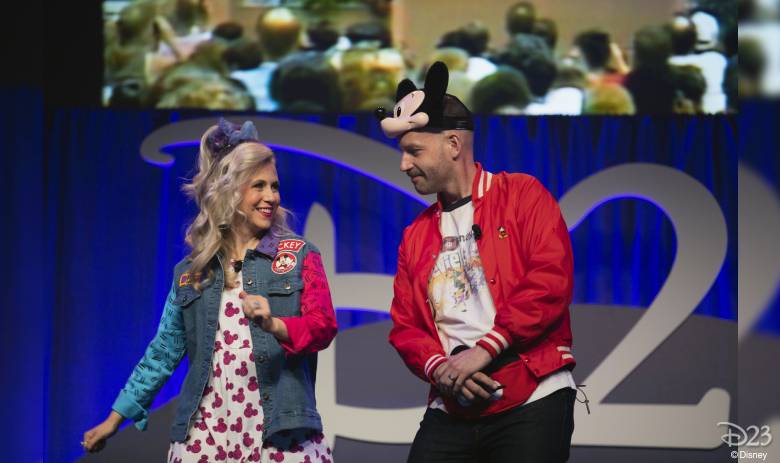 Walt '80s World
Our next totally tubular deep-dive into the Disney decades was hosted by Eckstein and Iwan, who celebrated the pop-culture moments from Walt Disney World in the '80s. Eckstein skated onto stage to share her love for Pleasure Island's roller-skating bar, while Iwan showcased some of Mickey Mouse's '80s fashion. Plus, guests got to see some footage from the "Totally Minnie" show, Walt Disney World's 15th anniversary celebration, and more blasts from the past!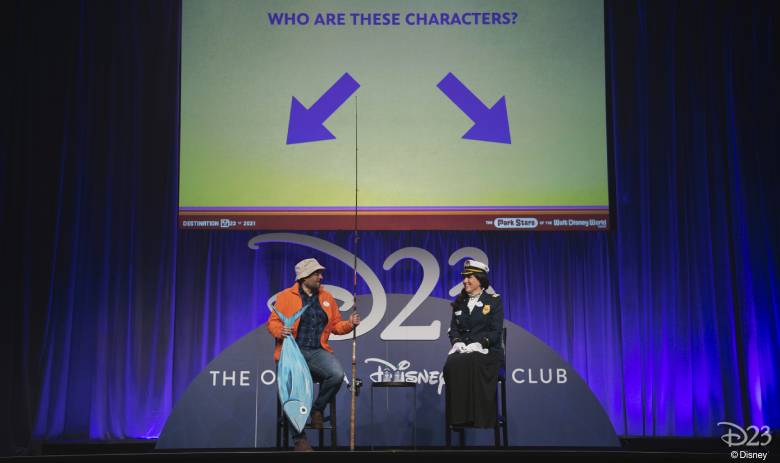 The Park Stars of Walt Disney World
From Figment to the Orange Bird, we all have a favorite original character from Walt Disney World—so, naturally, we put together a presentation to celebrate the whole cast of original characters fans know and love from the resort's history! Imagineers Diana Brost and Jason Grandt as took guests on a journey around Walt Disney World to meet many of the fun personalities that have appeared attractions and shows from 1971 to today—starting with the two characters they dressed up as for the presentation! Grandt donned an orange coat and brought his own fishing pole to be the fishing dad from Magic Kingdom's If You Had Wings, while Brost dressed as Mary Oceaneer from Disney's Typhoon Lagoon's Miss Adventure Falls. Grandt and Brost then shared with guests what they think are important aspects for creating Walt Disney World characters before discussing the stories of characters like the sleeping monk from Spaceship Earth, Dreamfinder from Journey Into Imagination, and the sea serpent from The Electrical Water Pageant.
The Magical Musical World of Encanto
The first night of Destination D23 had an enchanting ending— guests were invited to the world of Encanto, Walt Disney Animation Studio's 60th feature film. Composer Germaine Franco, voice actress Jessica Darrow (voice of Luisa), and Senior Vice President, Music, Walt Disney Animation Studios Matt Walker treated guests to a melodic Saturday evening celebration of the upcoming musical. Want to enjoy the music of Encanto for yourself? You can listen to the film's soundtrack now, right here.
Day one may be over, but the fun has just begun! Join us tomorrow for the second day of Destination D23: Present by Topps, where we will kick off the morning with a special Disney+ Download—and, of course, even more presentations celebrating the Golden Anniversary of Walt Disney World Resort! Find out how you can watch select presentations LIVE right here on D23.com so that you don't miss a minute of the magic. Check out our livestream schedule!
Keep up with all the latest Disney information on Disney Tips and like our Facebook Page.