'West Side Story' is coming to theaters on December 10, and it is one of the most anticipated films of the year. Director Steven Spielberg's take on the classic musical is already receiving rave reviews.
Recently D23 sat down with two of the stars, Rachel Zegler and Ariana DeBose. Courtney Potter shared the following with the official Disney Fan Club:
20th Century Studios' upcoming reimagining of the beloved musical West Side Story tells the iconic tale of fierce rivalries and young love in 1957 New York City. Set among the streets of adjoining Upper West Side neighborhoods Lincoln Square and San Juan Hill, the film—like its source material—is inspired by the star-crossed protagonists of Shakespeare's Romeo and Juliet, putting a couple in love in the middle of a tense standoff that's both powerfully political and deeply personal.
Two of the most iconic roles in the pantheon of both musical theater and film, West Side Story's María is the young Puerto Rican immigrant who falls for an American despite the danger their love incites; and Anita, girlfriend to María's brother Bernardo, is the knowing mother figure to his new-to-New-York little sister. In this new iteration, premiering in U.S. theaters in just a few days' time, the roles are filled by newcomer Rachel Zegler and Ariana DeBose (Hamilton, Schmigadoon!), respectively.
D23 was lucky enough to sit down recently with both Zegler and DeBose for a spirited discussion about their experiences making the film, and what they hope today's audiences take away from such an influential story.
"My friend McKenna sent me a tweet she'd seen from Cindy Tolan, the casting director, saying, 'Thank me when you're famous," explained Zegler, chuckling. "I thought, 'Oh, silly McKenna'—but then I sat down and made a tape and [thought] 'Why not? What do I have to lose?'… I think it was about two weeks shy of a year [since the process began] when I was called in for a final time, on January 9, 2019, to a dance studio in Manhattan. I did two scenes for Steven, and he sent me out of the room, and I just kind of waited patiently. And then he brought me back in and everybody had formed this semi-circle around me that looked like an intervention!" the actress laughingly recalled. "And Steven said, 'I just want to tell you that we would like for you to be María.' It was an incredible moment—and also a real big, deep sigh of relief that the process was over. And then it was gearing up for what was to come!"
As for DeBose, her process was a little different—but equally memorable: "I came to [the process] kind of late," she explained. "Cindy Tolan called and asked me to come to Brooklyn on a Saturday morning [for an audition]. At the time I was starring in a Broadway show [Donna: The Donna Summer Musical], and that Saturday would be a two-show day for me… I told them I could come in and dance and sing for them, but that I'd need more time to prepare the 'sides' [sections of scenes] they'd sent me… So I get there, and Steven Spielberg is there, and I think 'Oh no.' I dance for him, and he likes my dancing, and they ask me to stay in the room, and he says to me, 'Will you read for me?' And I said 'No.' And he looked at me a little cross-eyed," she remembered, laughing. "Thank goodness Cindy came to my rescue and explained to him the situation… But we did have a short conversation about my being Afro-Latina [DeBose's father is Puerto Rican]—that it would be important for me, should I get the role, to explore that. And he said, 'Well, I can't wait to see you again'… [After the rest of the process], I was at a nail salon in Manhattan when I found out I'd gotten the role. I had to have the nail technician answer the phone for me!"
As far as rehearsals, "I had been told that Steven doesn't like to rehearse [scenes]," explained DeBose, "but we had extensiverehearsals for the dance numbers. But for the scenes, we actually didn't rehearse them—which is a new experience for me, coming from the Broadway community, because we employ copious amounts of rehearsal. When you're doing something eight times a week, you workshop it, you find the nuances, and you do it over and over and over again so that you truly understand the circumstances that you play out every night for the audience. Whereas Steven likes to keep things spontaneous and fresh and authentic and honest. So there was a real trust that Steven cultivated—not just with me, but with all of my company members. It was a beautiful thing to behold… When we were discussing the process, he made it very clear to me; he said 'I chose you because I trust you. But I want you to explore; I want you to bring those sides of yourself, and if something feels wrong, let's talk about it'… We would get to these beautiful moments of collaboration. Working with Steven as a director, it was a dream."
"There wasn't a lot of scene work rehearsal, for sure," Zegler added. "But it was an intense couple months of just figuring out and mapping out the scale of the thing we had all signed on to… I personally loved the mornings [during dance rehearsals] because we would all do ballet bar. And for the most part, it was me being the only girl there—because I was there for most of the mornings, and it was all of the Jets, all of the Sharks. All the boys and then me. We all had a really fun bonding experience. That was beautiful."
Besides exhaustive dance rehearsal, the cast was privy to several days of panels with leading experts in New York City history—"There were professors and writers and people who had done research in the history of San Juan Hill back in 1957 Manhattan," recalled Zegler, "[talking about] the risks between the police and the Puerto Ricans; the police and the white kids; the white kids and the Puerto Ricans—how they all interacted. What the conflict really was, how the city was changing, and how those changes affected that conflict and their views."
DeBose had the extremely special, although unenviable, task of filling the shoes of Anita in the presence of the woman who originally played her on the big screen—and won an Academy Award® for her efforts: Rita Moreno. The Oscar, Tony®, Emmy®, and Grammy® winner not only executive produced this reimagining but also costars as Valentina, the widow of local drugstore owner Doc. "I was incredibly humbled by how gracious Rita was with me," admitted the actress. "She did ask, 'What do you want to know?' I'll tell you anything you want to know.' And I said, 'I want to know anything that you want to tell me!' And we had an understanding about the character. I care so much about Anita; as a person and as an actor, I don't believe you can really move forward without knowing where [the character] came from… [Rita's] is one of the most beautiful performances we've ever seen on screen. It changed the way the industry looked at Latinas. My specific goal was to find Anita in my physical manifestation, and what that means. And she gave me the space to do all of that and supported me through it."
Speaking of Moreno's groundbreaking performance, representation was truly key for this West Side Story: "It was very important to everyone involved that this movie be cast as accurately as possible, with representation in mind," said Zegler, a Latina of Colombian descent. "We were so fortunate to have such a wonderful ensemble of so many different walks of life, from so many different Latin American countries—primarily Puerto Rico and Cuba, but from all over… And Rita was my idol from a very young age, because Singin' in the Rain was my favorite movie. So it was an incredible moment when I got to meet her. It was so inspiring to talk to her, because she's so aware of how she's made a career for herself [as a Latina]… She just had the greatest stories and pieces of advice."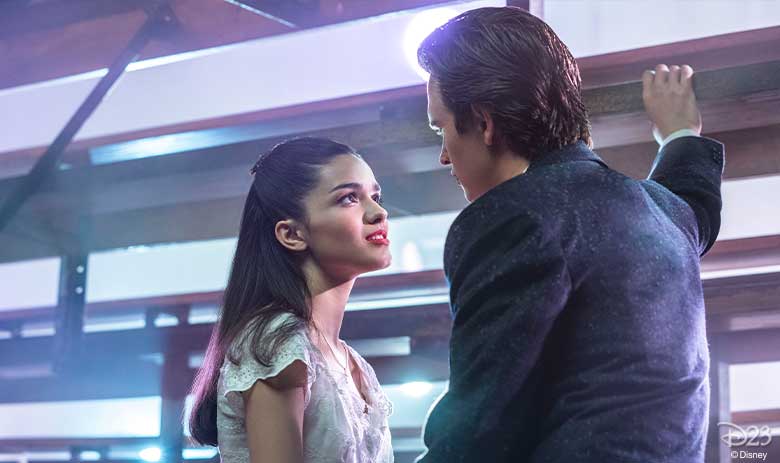 All told, both performers hope the film resonates with audiences. "So much love and care went into this film," said Zegler. "The performers in the entire ensemble are unreal and really incredible." "To know that young women and young girls will see this film, with characters like Anita and María, and hopefully feel empowered by some of the things they're witnessing—that is very exciting," added DeBose… and the fact that this tale is now a part of the worlds of Disney is not lost on the actress either. "I've always found music to be incredibly healing, and it's been a way for me to process things when I was a kid… Disney has brought that type of healing and processing to young people, and that's not something I think we talk about [often]—the power of this art form. Whether it's animation or live action, there is such power in the way that audiences receive these stories."
And DeBose believes West Side Story will sit squarely amongst that memorable Disney canon. "[This project is] truly one of epic proportions," said DeBose. "That's the only way I know how to describe it."
20th Century Studios' West Side Story debuts in theaters across the U.S. beginning this Friday, December 10!
Keep up with all the latest Disney information on Disney Tips and like our Facebook page.