Today we shared the news that Disney announced the reimaging of Splash Mountain to a "Princess and the Frog" theme. D23.com has now released an exclusive with Walt Disney Imagineering's Bob Weis as he discusses the changes to come to the attraction.
 [google_ad]
Today, Walt Disney Imagineering announced that Splash Mountain at Disneyland and Walt Disney World Resorts will be reimagined with new theming inspired by the beloved Walt Disney Animation Studios film The Princess and the Frog. The story picks up after the final, magical kiss in the movie, and follows Tiana and Louis as they prepare for their first Mardi Gras performance. The project will be led by Imagineer Charita Carter, who recently oversaw (with Kevin Rafferty) the creation of Mickey & Minnie's Runaway Railway at Disney's Hollywood Studios and will include some of the incredible music from the Academy Award®-nominated movie. D23 sat down with Bob Weis, president of Walt Disney Imagineering, to discuss evolving the attraction, why The Princess and the Frog was a perfect fit, and what this means for other Imagineering projects on the horizon.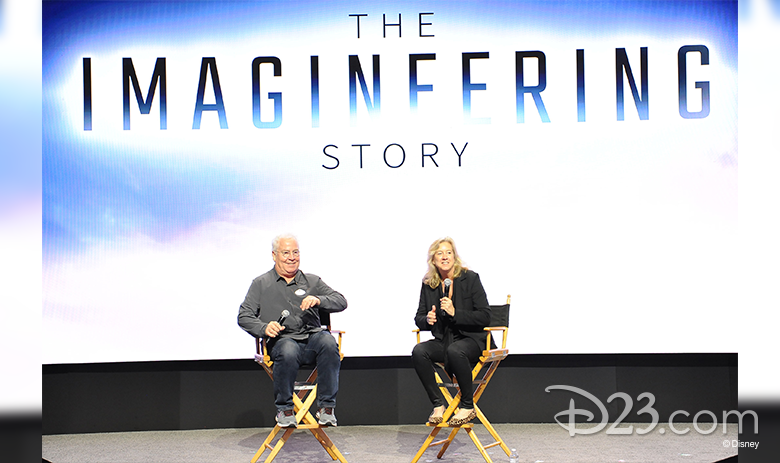 Bob Weis speaks with The Imagineering Story director, Leslie Iwerks, at D23 Expo 2019
D23: The Official Disney Fan Club: Many fans are very passionate about Splash Mountain and, of course, making changes to any attraction evokes feelings on both sides. When you chatted on our D23 Inside Disney podcast, you mentioned living up to Walt's vision of maintaining tradition while staying true to the idea that "the park will never be completed"—and you also talked about Disney Legend Marty Sklar's feelings about the park not being a museum. Can you elaborate, now with this context?
Bob Weis (BW): The last time I saw Marty was at the D23 Expo in 2017 when he talked about Imagineers making changes to the auction scene in Pirates of the Caribbean. He said, "I can't think of a single attraction that has not been enhanced and improved, some over and over again. Change is a 'tradition' at Disneyland that today's Imagineers practice—they learned it from their mentors, many of them Walt's original team of storytellers and designers—the Disney Legends." I think about this concept quite a bit, and it really represents the great responsibility we feel as Imagineers, to uphold Walt's vision of constant improvement.
[google_ad_btf]
D23: When did you start reimagining the attraction?
BW: It has been a year or more since we started talking about this particular concept. While we've explored many new themes in the past, that's when we really began to hone in on Princess Tiana's story. That said, Splash Mountain has been the subject of many conversations through the years. Its brilliant ride platform and landscape create the potential for great storytelling.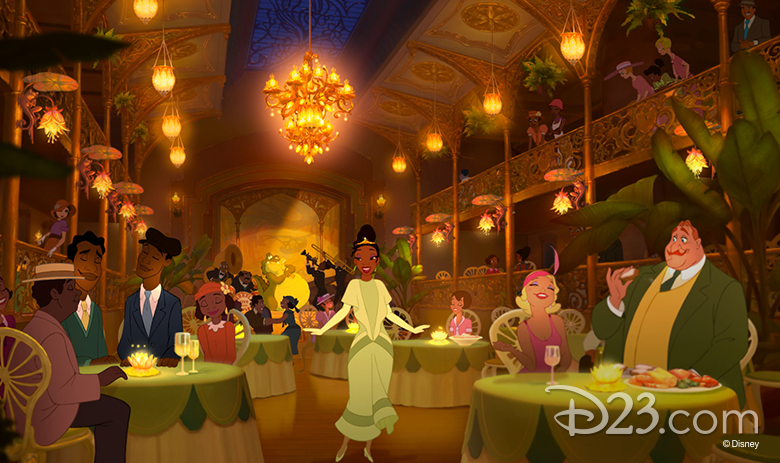 D23: Why The Princess and the Frog?
BW: Tiana is a modern, courageous, and empowered woman who pursues her dreams while never losing sight of what's really important. So it's a great story with a strong lead character, set against the backdrop of New Orleans and the Louisiana bayou. In 1966, Walt himself opened New Orleans Square when it became the first new "land" added to Disneyland, so it feels natural to link the story of The Princess and the Frog to the park. And as you know, music is a big part of the story and our attractions, and the incredible songs and score from The Princess and the Frog are often among fan favorites.
D23: The Princess and the Frog was released in 2009. Why now?
BW: There's no expiration date on great storytelling, and Imagineers consider it a great privilege to be able to bring these stories to life in our parks, resorts, and on board our cruise ships. Disney's extraordinary collection of stories is incredibly vast. This year, we unveiled Mickey & Minnie's Runaway Railway at Disney's Hollywood Studios in Orlando—also in development at Disneyland park in Anaheim—and while the attraction is based on modern animated shorts, they are very much an homage to the early 1920s and '30s style of animation. We would be missing a lot of opportunity if we limited ourselves to a specific period in time.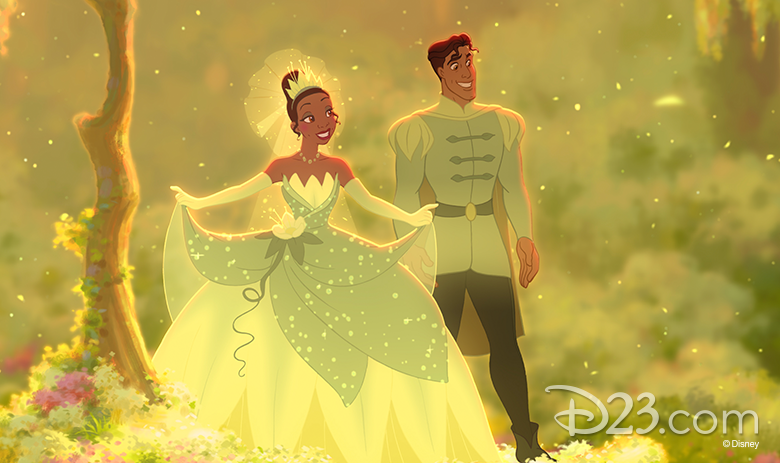 D23: Why retheme an attraction instead of building a new one?
BW: We have a longstanding history of enhancing attractions with "new magic," like Pirates of the Caribbean, and completely retheming others, like Guardians of the Galaxy – Mission: BREAKOUT! We completely understand that these decisions aren't always popular, but I think our biggest fans know that we care as much as they do.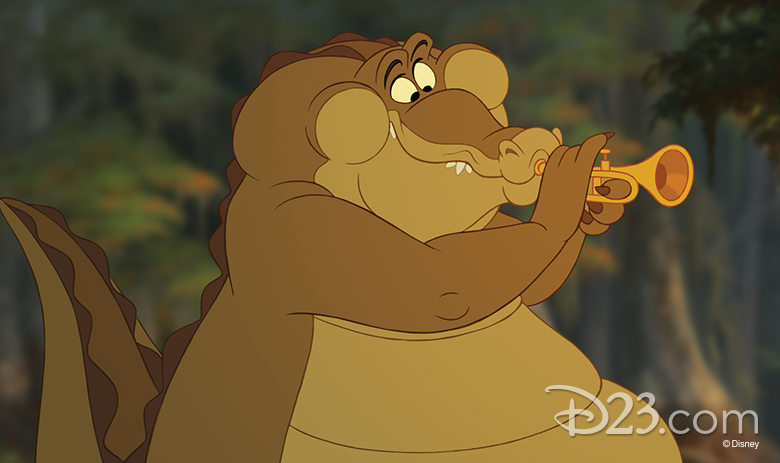 D23: What can guests expect when they head into the bayou?
BW: Working closely with our partners at Walt Disney Animation Studios, we are expanding on what guests know and love from the film today. From a timing perspective, guests will see Princess Tiana throughout the experience (hint—after "the kiss"). She and Louis are bringing friends together for their first-ever Mardi Gras performance, alongside many of our other favorite characters from this instant classic.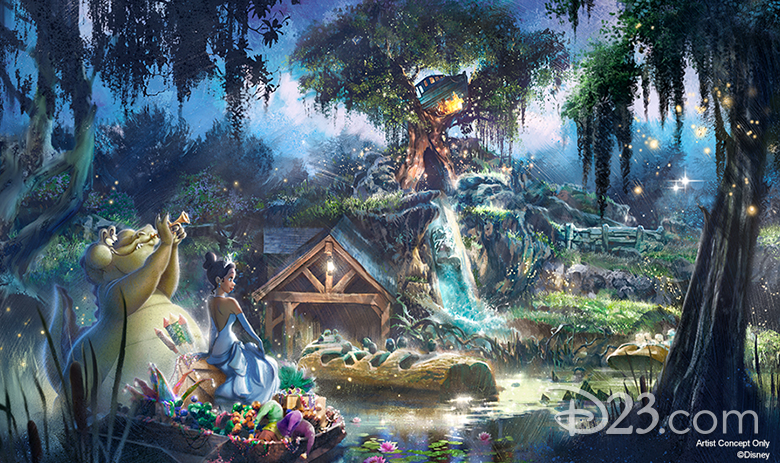 D23: When can we expect to be "goin' down the bayou" and will this alter any of the timelines for Avengers Campus or Mickey & Minnie's Runaway Railway at Disneyland? Or perhaps TRON at Magic Kingdom?
BW: We have separate project teams working on these efforts, but we are still evaluating project timelines based on the extended closures we've experienced due to COVID-19. While several projects, like Avengers Campus—at both Disney California Adventure and Disneyland Paris—are able to surge forward based on where we were in development, there are others that will be picked back up in stages—like Mickey & Minnie's Runaway Railway and TRON—and some that are longer-term that we will need more time to assess. We are working with our operations partners now to determine timing for this project to get under way. For now, we know that both Magic Kingdom and Disneyland parks will re-open with the existing Splash Mountain attraction.
Source: D23.com