The name "Disney" covers more than just the best Theme Parks on the planet. The Walt Disney Company also means movies, television, conventions, cruises, and even conservation!
Now that 2021 is almost gone, it's time to look ahead to 2022. D23, the Official Disney Fan Club, compiled a list of movies (both in theaters and on Disney+) to be excited about in the coming year:
Disney+ will continue to release films for the whole family to enjoy in 2022, starting with The Ice Age Adventures of Buck Wild on January 28. The animated film continues the hilarious escapades of the beloved sub-zero heroes from the Ice Age franchise as they create more prehistoric pandemonium. The streamer will also release Sneakerella, a gender-flipped twist on the Cinderella fairy tale, on February 18, and Cheaper by the Dozen, a reimagining of the hit family comedy starring Gabrielle Union and Zach Braff, in March.
Related: Looking Towards 2022, Theme Parks and Beyond Edition
Other titles to look forward to on Disney+ include Better Nate Than Never, based on the book by Tim Federle, and Chip 'n Dale: Rescue Rangers, a hybrid live-action/CG animated adventure starring John Mulaney and Andy Samberg, both of which will debut in the spring. Fall will deliver the Disney+ debuts of Disenchanted, a sequel to the musical film Enchanted starring Amy Adams and Patrick Dempsey; Hocus Pocus 2, a sequel to the cult classic starring Disney Legend Bette Midler, Sarah Jessica Parker, and Kathy Najimy; and Pinocchio, a reimagining of Disney's animated classic starring Tom Hanks, Cynthia Erivo, and Luke Evans and featuring the voices of Benjamin Evan Ainsworth, Joseph Gordon-Levitt, Keegan-Michael Key, and Lorraine Bracco. In addition, Rodrick Rules—a second animated film from the Diary of a Wimpy Kid book series—is being adapted for release in 2022.
On March 11, Pixar Animation Studios will release Turning Red, introducing audiences to Mei Lee (voiced by Rosalie Chiang), a confident, dorky 13-year-old torn between staying her mother's dutiful daughter and the chaos of adolescence. As if changes to her body, interests, and relationships weren't enough, whenever she gets too excited, she "poofs" into a giant red panda! On June 17, Disney and Pixar will release Lightyear, taking Toy Story fans to infinity… and beyond! The sci-fi action-adventure will present the definitive origin story of the one and only Buzz Lightyear (voiced by Chris Evans)—the hero who inspired the toy.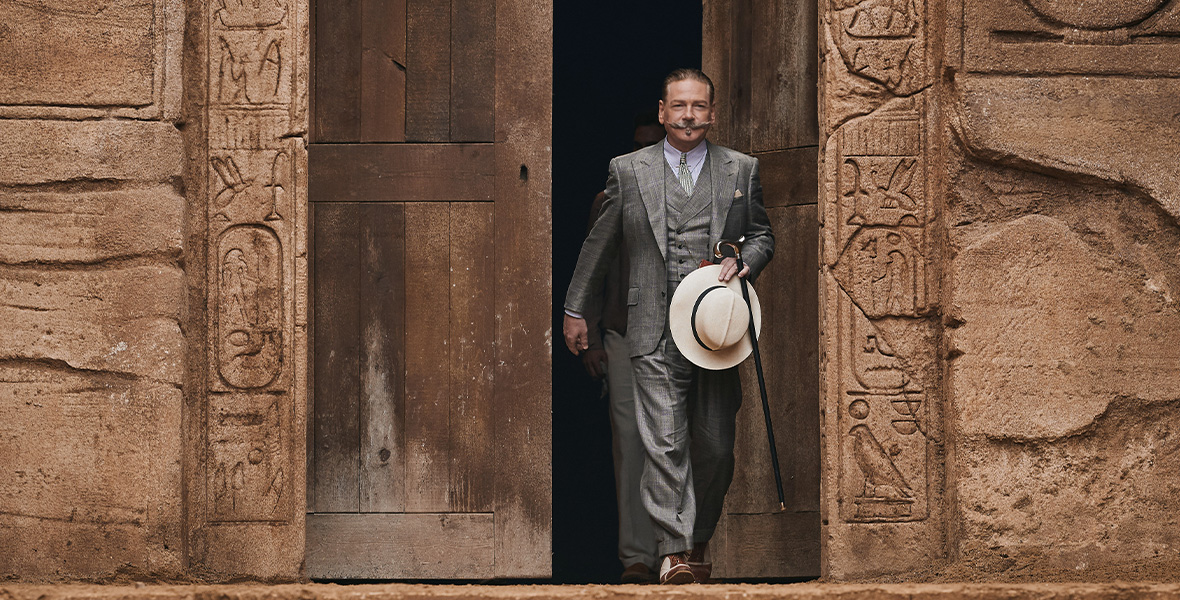 20th Century Studios will release a handful of films in 2022, beginning with Death on the Nile on February 11. Directed by Kenneth Branagh and based on the 1937 novel by Agatha Christie, this tale of passion and jealousy features an all-star ensemble cast that includes Branagh (back as the detective Hercule Poirot), Tom Bateman, Annette Bening, Russell Brand, Ali Fazal, Dawn French, Gal Gadot, Armie Hammer, Rose Leslie, Emma Mackey, Sophie Okonedo, Jennifer Saunders, and Letitia Wright. On Memorial Day weekend, 20th Century Studios will release The Bob's Burgers Movie. Following a couple to-be-announced titles released in the fall (including one from acclaimed filmmaker David O. Russell), James Cameron's Avatar 2 will open in theaters on December 16, inviting audiences back to Pandora. Joining returning stars Zoe Saldana and Sam Worthington in the film are Trinity Bliss, Jack Champion, Britain Dalton, Jamie Flatters, and Kate Winslet—to name just a few.
Related: Looking Towards 2022, Television Edition
The following titles from 20th Century Studios will debut on Disney+ in international markets under the Star brand, on Hulu in the U.S., and Star+ in Latin America: Rosaline, a comedic twist on William Shakespeare's Romeo & Juliet; The Princess, an irreverent adventure set in a fairy tale world (Summer 2022); Prey, an action-thriller in the Predator franchise set 300 years ago (Summer 2022); and No Exit, a suspense-thriller in which a blizzard forces a woman to find shelter at a highway rest area with a group of strangers.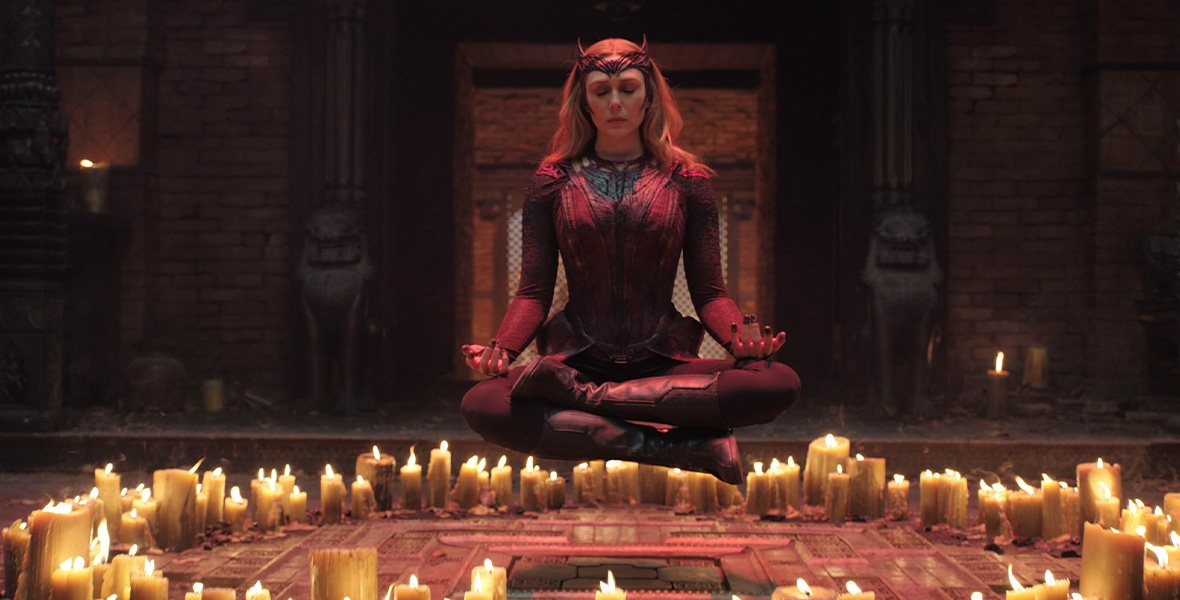 Marvel Studios has three films lined up for 2022, starting with Doctor Strange in the Multiverse of Madness on May 6, directed by Sam Raimi and starring Benedict Cumberbatch, Elizabeth Olsen, Benedict Wong, Rachel McAdams, Chiwetel Ejiofor, and Xochitl Gomez. Thor: Love and Thunder will light up movie screens on July 8. Directed by Taika Waititi, the cast includes Chris Hemsworth, Natalie Portman, Tessa Thompson, and Christian Bale. Black Panther: Wakanda Forever, written and directed by Ryan Coogler, will open on November 11. Honoring Chadwick Boseman's legacy and portrayal of the title character, Marvel Studios will not recast the late actor's role, but will continue to explore the world of Wakanda and all of the rich and varied characters introduced in the first film.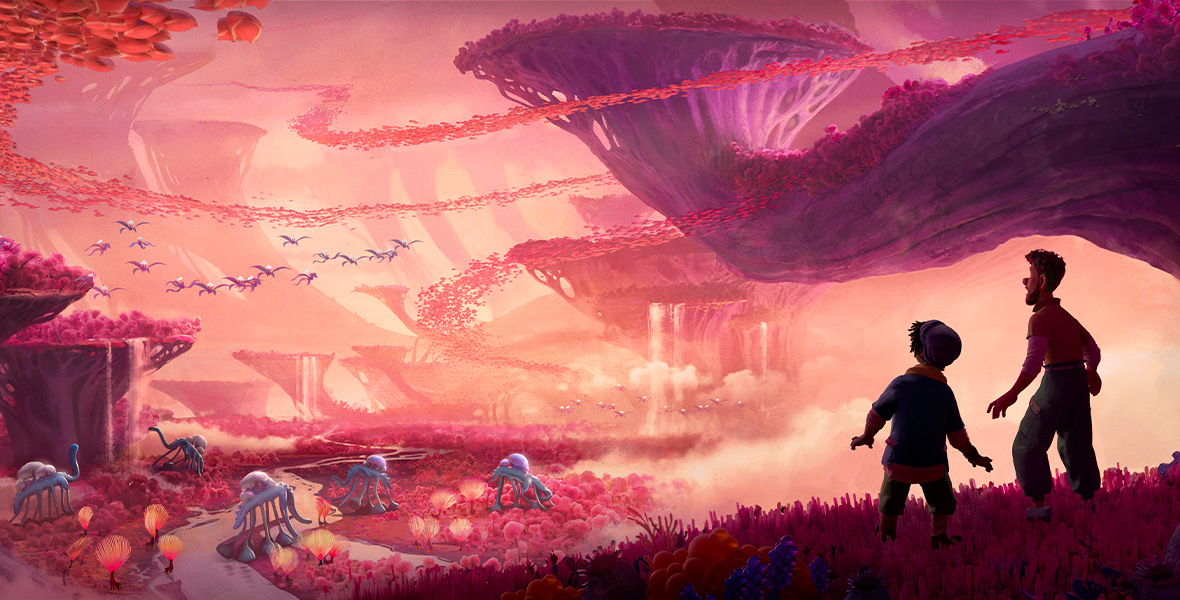 Walt Disney Animation Studios will release Strange World on November 23 (see concept art, above). Directed by Don Hall, the action-adventure journeys deep into an uncharted and treacherous land where fantastical creatures await the legendary Clades, a family of explorers whose differences threaten to topple their latest and by far most crucial mission.
Keep up with all the latest Disney information on Disney Tips and like our Facebook page.