If you're keeping up at all with Destination D23, you'll know that it was information overload. Here's all the exciting info straight from the D23 website. Since there was so much information, we're breaking it up into two separate days, here was Sunday.
SUNDAY
After all the excitement from Saturday, you'd think we'd have run out of magical moments—but, never fear! The second day of Destination D23: Presented by Topps was just as filled with fun, surprises, and a lot of festive sweaters. The morning began with a surprise performance from musician Jeremy Passion, who performed an acoustic cover of "There's a Great, Big, Beautiful Tomorrow" from Magic Kingdom's Carousel of Progress.
Then, the day kicked off with D23 Members diving right into another day of celebrating the "Vacation Kingdom of the World":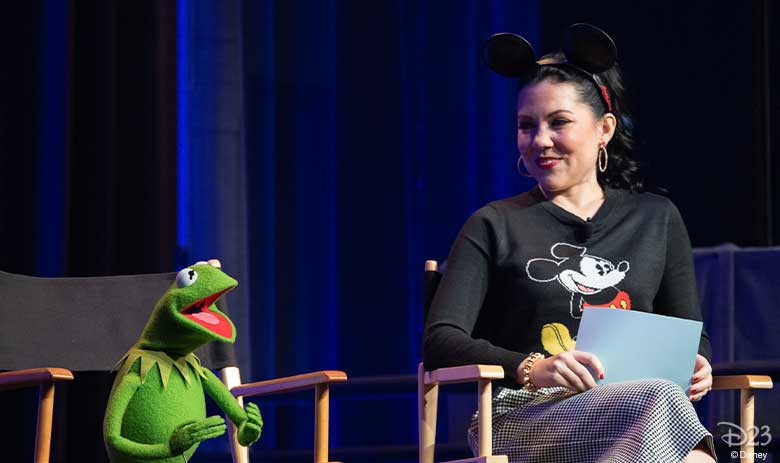 Disney+ Download at Destination D23
After last week's thrilling Disney+ Day packed with announcements and sneak peeks and posters and… just about everything a fan could dream of, our friends at Disney+ stopped by the Destination D23 stage to showcase some of their can't-miss upcoming content, including a live interview with Diary of a Wimpy Kid's author and illustrator Jeff Kinney, a 10-minute preview of Welcome to Earth, and an un-frog-ettable interview with Kermit the Frog himself!
"Speaking as an amphibian who's spent a lot of times in streams, Disney+ is definitely my favorite," Kermit told us, before sharing a blooper reel from Muppet Haunted Mansion and revealing that his favorite series on Disney+ is the Imagineering Story, because he gets management tips from Walt Disney Imagineering. "They're more organized than The Muppets," he explained.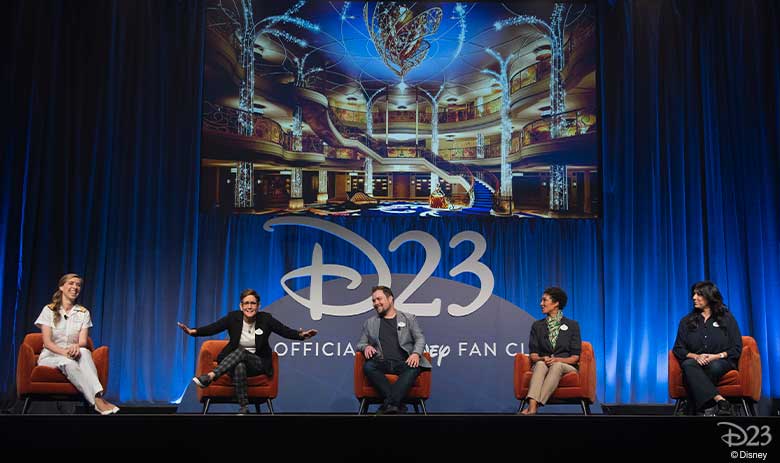 Onboard the Disney Wish: Creativity & Inspiration Sets Sail
Wishing you could get an inside look at how the newest ship to join the Disney Cruise Line fleet was brought to life? Imagineers steered guests through a presentation highlighting the gorgeous new ship, including the new Frozen-themed dining experience, which they announced will be formatted as a dinner in the round. The presenters then gave us a super inside look at "Avengers: Quantum Encounter" at the Worlds of Marvel dining experience, which will feature some of our favorite Super Heroes, including Ant-Man and The Wasp, who will demonstrate their incredible shrinking technology by shrinking Scott Lang's luggage—and the Disney Wish itself!
Need something that puts you in an animated mood? Guests got a sneak peek at seven out of the nine Mickey Mouse cartoon clips that will be featured in the AquaMouse, Disney's first-ever attraction at sea!
Just because you're on the sea doesn't mean that you can't visit a galaxy far, far away, as Star Wars: Hyperspace Lounge will take Disney Wish guests to seven different locations across the galaxy! Destination D23 guests got a first look at some of the view diners will see from the Star Wars: Hyperspace lounge windows, which include vista like the planet of Mustafar or an asteroid field.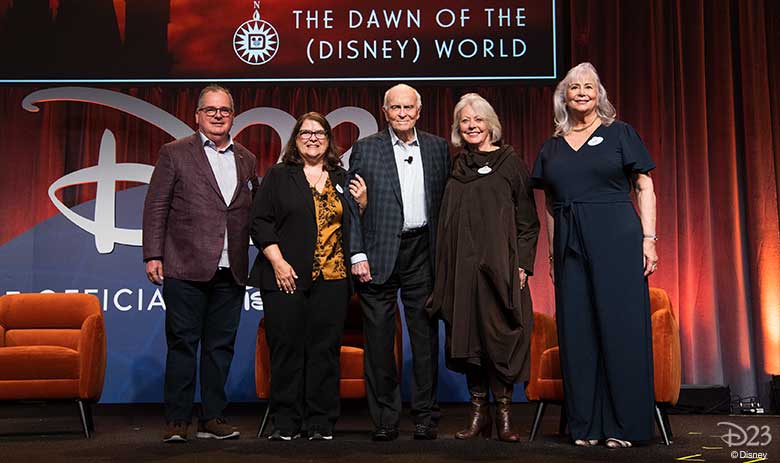 The Dawn of the Disney World
This presentation was jam-packed with special guests, fascinating facts, and even a special appearance from a Disney Legend! Steven Vagnini, one of the co-authors and historians behind the new Disney Editions coffee table book A Portrait of Walt Disney World: 50 Years of The Most Magical Place on Earth, led an entertaining presentation on the development of the resort. Accompanied by video messages from his co-authors Tim O'Day and Kevin Kern, Vagini shared that they interviewed over 100 people in research for the book—including the next guests featured in the presentation!
Global Ambassador for the Walt Disney World Resort 50th Anniversary Celebration George A. Kalogridis, inaugural Walt Disney World Ambassador Debby Dane Browne, and longtime Imagineering executive Peggie Fariss shared a lively discussion about their experiences being a part of the resort's unveiling and 1971 opening (and beyond!). All three presenters actually started their Disney careers at the Contemporary Resort—where this very Destination D23 was held!
To close out the session, Walt Disney Archives director Becky Cline hosted a special appearance by Disney Legend Dick Nunis for a look at how Walt Disney's greatest dream was transformed into the Vacation Kingdom of the World. The conversation included many stories about Nunis' time working with Walt himself, and the revelation that his iconic Bermuda shorts—which were part of the Walt Disney World Resort "Disney Look" for cast members at the time—were inspired by a trip he took to Bermuda. He claimed he saw the shorts and thought, "That's a great idea!" With so much insight to share about the early days of Walt Disney World Resort and his time working with Walt, we couldn't cover it all in the panel. Luckily, Nunis revealed that he has written a book, Walt's Apprentice, which will be available in 2022!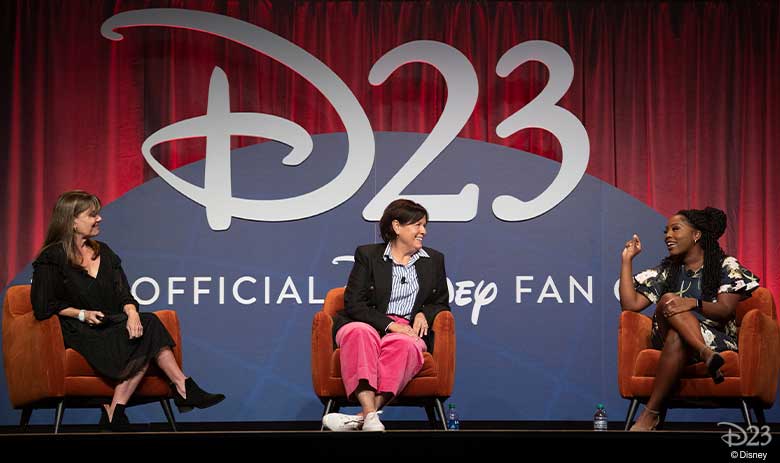 Delicious Walt Disney World
Hungry for some Disney history? Authors Pam Brandon and Marcy Smothers and host Morgan Gaines took guests on a tasty tour of a half century of food at Walt Disney World! We were treated to the reveal that three iconic aspects of Disney dining originated at Walt Disney World: The Mickey ice cream bar originated at The Land pavilion at EPCOT, while Dole Whip debuted at Walt Disney World in 1984. Finally, while character dining can be found at Disney Parks all over the world in modern day, the first ever character dining experience was at Disney's Polynesian Village Resort.
The book, which includes recipes for classic fan favorites like the "Handwhich," and soon-to-be classics like Star Wars: Galactic Starcruiser's upcoming "Blue Shrimp" dish, was heavily inspired by the spirit of Walt himself. Smothers quoted him saying, "Welcome to the kingdom of good eating, where the food is as fabulous as the fun."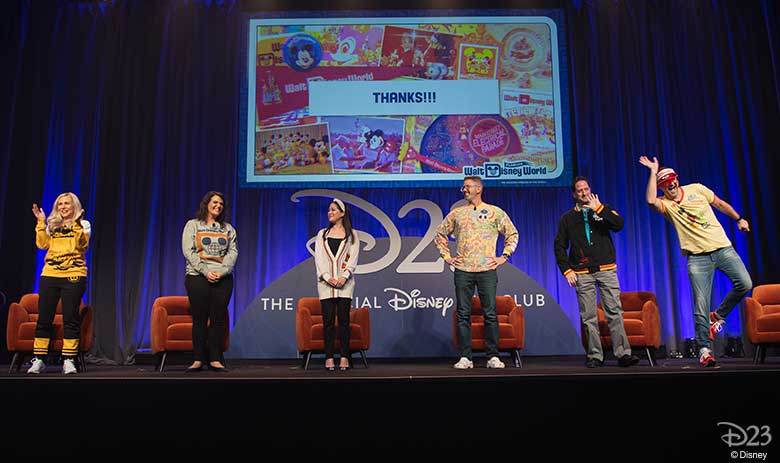 From the Vault: Merchandise Memories
We all have a beloved souvenir or two from a Walt Disney World trip—and there's 50 years' worth of merchandise out there to commemorate countless happy vacations. Actress and fashion icon Ashley Eckstein and the Walt Disney Archives' own Kelsey Williams joined the creative minds behind the latest must-have Walt Disney World "From the Vault" Collection for a look at the past, present and future of the merchandise you love to collect!
Not only that, but the panel took us behind the creation process of the "From the Vault" collection, revealing that the creative team visited the Walt Disney Archives for inspiration and made their own versions of iconic items. They even created a style guide based off their research! The panelists all wore clothing from the line that is soon-to-be released, including a spirit jersey with a vintage park map and Crocs with the same pattern (a reveal so exciting that a member of the audience shouted "WHAT?!" in shock). New updates to the line will continue to be released throughout the 50th anniversary celebration, including into 2022!
Williams took us behind the creation of the Walt Disney Archives' featured exhibit at Destination D23, "50 Years of Bringing Home the Magic." She explained that they wanted to use the new, bigger space for the exhibit to show off the decades of merch in their collection—since the Archives was started in the '70s, they were lucky enough to be collecting merchandise since the start of Walt Disney World! She also revealed that displays for each decade featured a backdrop of the shopping bags from that era.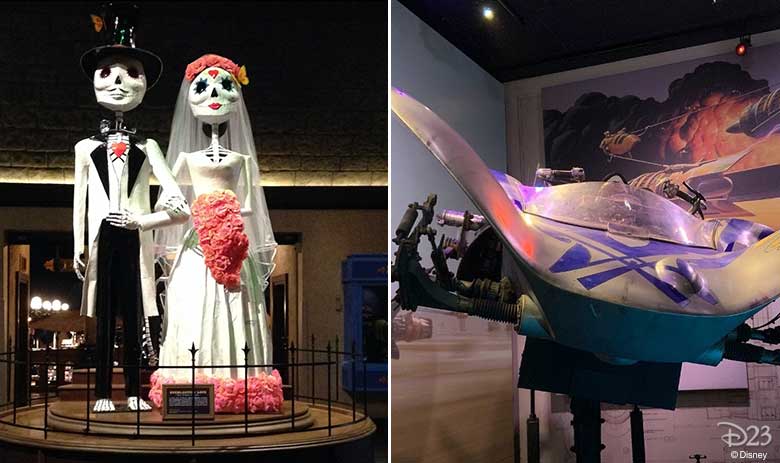 Stories of the Walt Disney World Galleries
Ever wondered who was responsible for curating and caring for the incredible artifacts within the galleries and exhibits found throughout Walt Disney World? The Walt Disney Imagineering Collections team took to the stage to share how they brought the galleries to life—and shared the behind-the-scenes stories of creating these unique, authentic, and surprising hidden-gem experiences. They showcased art from everywhere at Walt Disney World—from the galleries of EPCOT's world showcase to Anakin Skywalker's Podracer at the Star Wars Launch Bay!
Walt '90s World
Booyah! The next stop in a pop culture-fueled ride through the Disney decades that defined Walt Disney World is the '90s, and the Walt Disney Archives' Francesca Scrimgeour and Williams made sure that not just '90s kids remembered the wacky and wonderful moments from the era, including The Magical World of Barbie, *NSYNC's iconic concert at Disney's Hollywood Studios, and the talking robot trashcan PUSH who would make Walt Disney World guests dance… to "The Macarena," of course!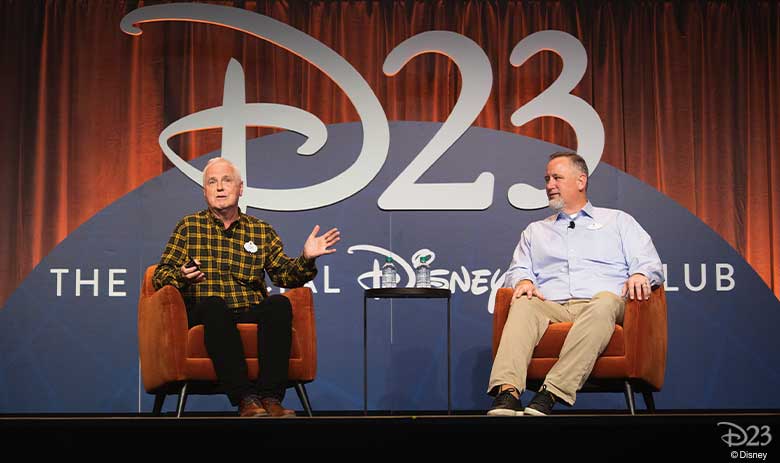 Musical Attractions of Walt Disney World
From "One Little Spark" to "Magic Journeys" galore, the music of Walt Disney World resort is unforgettable! Imagineers Tom Fitzgerald and John Dennis took us on a journey through 50 years of Walt Disney World music, highlighting songs and scores from some fan-favorite attractions—including The Country Bear Jamboree, If You Had Wings, and Horizons. They shared fascinating facts behind the creation of iconic Walt Disney World music, like the fact that It's Tough to Be a Bug's insect-inspired instrumental of "Beauty and the Beast" (or should we say, "Beauty and the Bees"?) required the brass section to play their instruments like kazoos! The toe-tapping talk concluded with a magnificent musical moment, where DCappella debuted their music of EPCOT medley.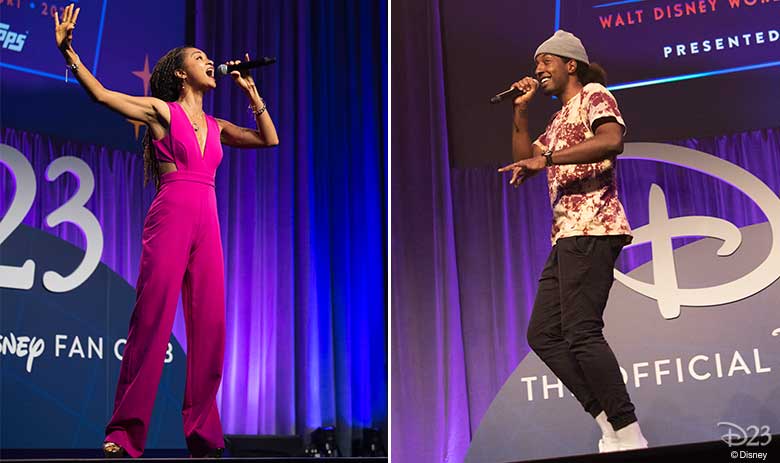 The World's Most Magical Finale
After two days' worth of epic presentations, performances, and special surprises, we had to close Destination D23 with an unforgettable closing moment! After their EPCOT medley, DCappella performed a mash-up of songs from The Lion King, before Syndee Winters took to the stage to sing "Shadowlands" and "Almost There." Bardo then performed his own iconic take on "There's a Great, Big, Beautiful, Tomorrow," before Kayla Alvarez closed out the night with an enchanting performance of the Walt Disney World 50th anniversary anthem, "The Magic is Calling," joined on the stage by Mickey and friends in their EARidescent best!
Disney+ Season's Streamings Ugly Sweater Party
…okay, so it's not really over until there's a dance party! Our pals at Disney+ threw Destination D23 guests a festive shindig to end the weekend and kick off the holiday season with crafts, photo locations, and special character meet and greets!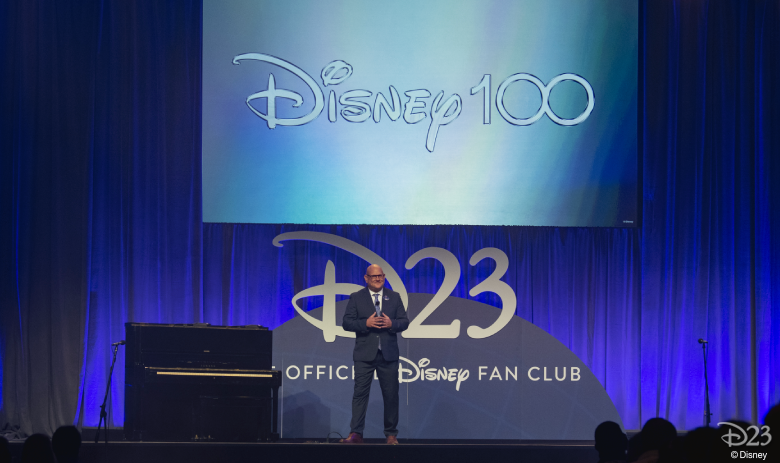 Keep up with all the latest Disney information on Disney Tips and like our Facebook Page.